Colonie NY Subaru Dealership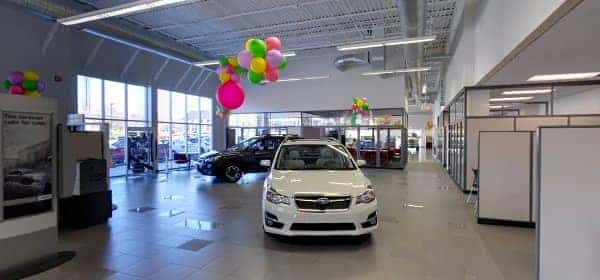 If you're searching for the best Colonie, NY, Subaru dealership, Subaru of Troy is ready to show you why drivers keep coming back to us when it's time to find the perfect new or used vehicle for their travels. Whether you're navigating your daily drive to the Capital District for work or you're taking the kids to play at The Crossings, you'll want a vehicle that can handle your unique lifestyle and all the journeys that go along with it.
Perhaps that's why Subaru is best suited to accommodate many drivers' needs, with fantastic features like all-wheel drive, a durable ruggedness that can't be beat, and of course, a reputation of esteemed reliability. Approximately 96% of Subarus are still on the road after ten years, and if you want to find exactly what you're looking for at a fair price from a local dealership that has your best interests in mind, then partnering with our team is highly recommended. You'll not only be impressed by all of your options, you'll be satisfied with the top-level service you're able to enjoy from our experienced and friendly staff.
We Can Help You Get Behind the Wheel of an Excellent Subaru
As you're probably already aware, Colonie, NY, is the perfect place to reside, with a small-town feel, located within close proximity to bustling cities like Albany and Troy. Elevate your drive in and around this area by opting for the car that meets your travel requirements, and if you're interested in a new car, we have plenty of incredible models. Opting for a new car means taking advantage of the latest features, especially when it comes to design and tech. From advanced driver assistance options to connectivity features and comfortable styling, new Subarus showcase all of the must-have features drivers want in a car. Plus, when you buy new, you'll have added peace of mind that your vehicle is covered under warranty, which is a big selling point when it comes to shopping for a vehicle.
For others, the selection of used vehicles on our lot simply can't be beat. It's no secret that Subarus hold their value among the best on the road, earning various awards, including Kelley Blue Book's Most Trusted Brand and Forbes' Top 10 Brands, among others. Knowing that a used Subaru is one of the best options you can buy when you're shopping from a pre-owned inventory makes it easy to find the features, options, and style you really, truly desire. Plus, you're able to save money, as these features and options are much more abundant and affordable in used models. You'll even save money on other aspects of your purchase, including insurance rates, dealership fees, and more.
No matter what your preference happens to be, Subaru of Troy helps Colonie residents find what they're looking for to meet their needs and budget. Our team puts your needs first, working with you to guide you to the right vehicle, and we don't rush you or bombard you with confusing pricing. We provide a transparent approach to the process with a lot stocked full of amazing options. That's what sets us apart from other Colonie, NY, Subaru dealerships.
Popular Subarus We Think You Should Check Out
The Subaru inventory is filled with exceptional models, but a few stand out from the rest. One of the most popular models is the Outback, a midsize SUV that's ideal for families, adventurers, and everyday commuters alike. Not only does it showcase an impressively rugged build with high ground clearance and an outdoor-oriented attitude, but the Subaru Outback is also incredibly spacious and armed with top-of-the-line all-wheel drive capabilities. Whether you decide to take it off-road or down the street, the Outback is able to handle any type of journey with versatility, dependability, and a boldness that can't be rivaled.
If you're looking for something a little smaller to zip up and down Central Avenue into downtown Colonie, you may want to take a closer look at the Subaru Forester, a compact Subaru SUV full of spunk. It's perfect, especially for frequent commuters, as its smooth driving dynamics and roomy interior create the ideal backdrop for a more relaxing ride through areas of congestion. The Forester is easy to drive yet capable of holding its own on uneven terrain with a rugged flair that emanates throughout. When you're yearning for intense practicality, the Forester won't let you down.
For those searching for a well-rounded sedan, the acclaimed Legacy is definitely worth a test drive. From its all-wheel drive capabilities to ample cargo space to handle all of your travel gear, the Legacy is a versatile car for those who don't wish to jump on the SUV bandwagon. Maybe you're looking for a bit of a thrill during your drive around Colonie, and if this is the case, the Subaru WRX is waiting to excite you. Its smooth, agile, and powerful ride makes it easy to see why this particular performance sedan has such a loyal following. Plus, with its edgy design and racing-inspired presence, one look at it, and you'll be ready to hit the track.
Service and Parts for Colonie Drivers
Keeping your vehicle in excellent condition is made easier when you have a top-quality team assisting you. From routine maintenance to repairs and modifications, the service center at Subaru of Troy is excited to help keep Colonie drivers moving forward safely and efficiently. We make it easy to schedule service at a time that works for you, and our pros are well-versed in working on all makes and models of vehicles, so even if you didn't buy a Subaru or you didn't buy from us, we'll step in and handle your service needs.
We utilize the best diagnostic tools, as well as OEM parts, because generic parts will not allow your vehicle to operate at its best. You want to ensure that you're providing your vehicle with high-performing parts and routine service so that you're able to enjoy a reliable ride mile after mile. This is what our team specializes in here at Subaru of Troy because we understand that your needs come first. If you want to ensure that you're taking care of your car as best as possible, choosing our team is a great first step.
Stay Local and Shop Here at Your Colonie Subaru Dealership
Our team has been living and working in the Colonie community for almost a century, which means that there's no one better than us to help you with the car-buying process. From a lot stocked with some of the most remarkable new and used Subarus on the market to a team that works carefully to provide you with the best service in the industry, you'll be able to have it all here. We understand that your time is valuable, which is why we make it easy to browse online, apply for financing, value your trade, schedule service, and much more, all from the convenience of your living room sofa. So, when you want to make the most out of your Colonie travels, take a trip to Subaru of Troy and see what all the buzz is about and why it pays to partner with us. It'll be obvious, from the minute you step onto our lot, that we're different from the rest.